Crude oil inventories on the U.S. Gulf Coast (USGC) reached 207.2 million barrels (bbl) on April 11, a record high. The elevated inventory levels are the result of the continuing strong crude oil production growth, the opening of TransCanada's Marketlink Pipeline, and a drop in crude oil inputs at USGC refineries as a result of seasonal maintenance.
...
The main driver of the recent crude oil inventory builds on the USGC is start-up of TransCanada's 700,000-bbl-per-day (bbl/d) Marketlink Pipeline, which runs from the Cushing, Oklahoma storage hub to the Houston area. In late January, TransCanada completed the first delivery of crude oil via Marketlink to USGC refineries. Trade press has reported that crude oil deliveries via Marketlink are expected to average 525,000 bbl/d in 2014. The pipeline start-up has been a main driver of recent corresponding draws at Cushing.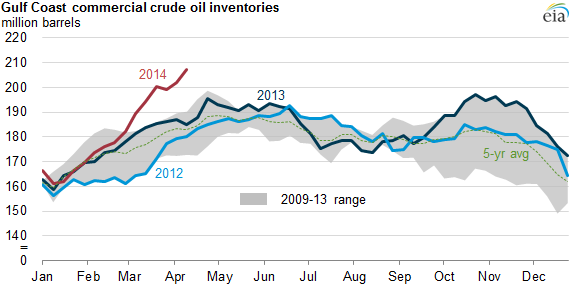 Graph 1
Crude oil inventories at Cushing, Oklahoma, the primary crude oil storage location in the United States, decreased 13 million barrels (32%) over the past two months. On March 21, Cushing inventories were less than 29 million barrels, more than 20 million barrels lower than a year ago and the lowest level since early 2012. Cushing is the delivery location for the New York Mercantile Exchange (Nymex) West Texas Intermediate (WTI) crude oil futures contract.
The recent drawdown of stocks at Cushing resulted from three factors:


The startup of TransCanada's Cushing Marketlink pipeline, which is now moving crude oil from Cushing to the U.S. Gulf Coast

Sustained high crude oil runs at refineries in Petroleum Administration for Defense Districts (PADD) 2 (Midwest) and 3 (Gulf Coast), which are partially supplied from Cushing

Expanded pipeline infrastructure and railroad shipments that have made it possible for crude oil to bypass Cushing storage and move directly to refining centers in PADDs 1 (East Coast), 3 (Gulf Coast), and 5 (West Coast)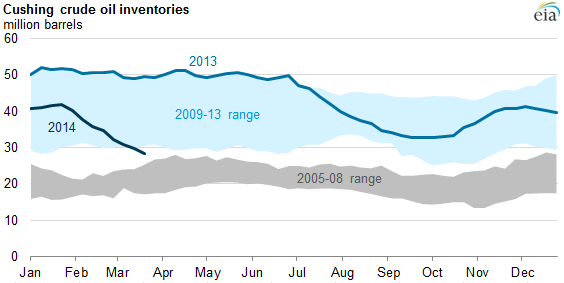 Graph 2
This is leading to a discount in Light Louisiana Sweet (LLS) (the Gulf Coast benchmark) to West Texas Intermediate (WTI) (the US benchmark). WTI is already trading at a discount to Brent (sort of the world/European benchmark) and the TransCanada pipeline may cause further discount in LLS.
Graph 3